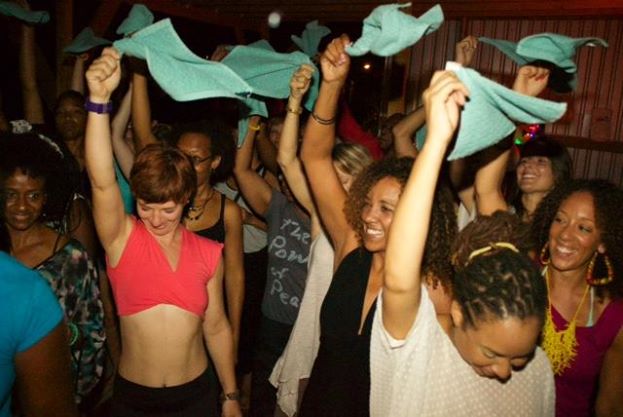 Types of Dance Fitness & Movement Programs:
African (60mins)
Combining traditional West African dances with urban azonto styles. We mix the choreography and fitness moments, which will allow you to you to feel your body and muscles. Accompanied with azonto style music and tradtitional African beats will leave you shaking and moving through the class and possibly even after it's finished.

Soca Motion(60mins)
This class is based on the latest soca and Caribbean styles of music. Upbeat tempos teach you how to move that waist, hips, derriere, arms, legs and head. A blend of soca, dancehall, and reggae moves to start to make you feel ready for a Caribbean carnival party.

Dance Fitness and Movement (60mins)
Involving Soca Motion which is "move your Mas", carnival/ soca dance/ fitness class. We infuse this style into the movement and dance classes. Azonto Dance Fitness, which originates from Ghana, is an urban African dance form performed to Azonto dance music. Incorporating African, dancehall and hip hop moves this class gets you moving, laughing and having a good time all the while getting you more fit. These classes can be catered to both children and / or adults.

Hip Hop (60mins)
Includes the beginning stages of breakdance uprock moves along with short choreophed pieces of hip hop. Full body warm up and cool down. Whether it be a mix of vogueing, popping, or breaking you will find your self getting down to the beats of enjoyable hip hop.
A teacher for the past 15 years, joyous movement has always been part of Charity's life. As a young girl she trained for a short period as a gymnast and choreographed dances and performances with her sisters.
Azonto Dance Fitness first time in Barbados.
Her formal training has exposed her to many cultures. In 2003 while in France she engaged training in hip-hop, break-dance, reggae, and African dance classes.
Ever hungry to learn more she joined a multi-disciplinary program with a Colorado Dance School. Daily training in break-dance and hip hop as well as intensive exposure to the African dancer, Djeneba Sako of Mali.
 
After becoming certified to facilitate classes as part of "The Good Life Program" Charity was sought out to teach in after school programs within the Midwest of USA. She taught elementary–secondary school children the elements of hip hop and dance. Her desire to train more led her to Seoul, South Korea where she trained with b-boy crews and started doing public performances, which led her to teach there and in Thailand. After Asia she moved to Chicago where she joined a Jamaican Dance Company. Advancing quickly, she was asked to begin to assist in teaching newcomers to the company. She has competed in international breakdance competitions as well in different parts of the world as B*Girl Eklektika.
In 2009, Charity moved to The Commonwealth of Dominica, where she taught public yoga classes and workshops throughout the island She was also involved in a few different primary and secondary schools teaching dance and movement for performances, along with extra curricular activities. She taught African dance accompanied by Ras Algi as well. Before leaving Dominica in 2011, Charity co-facilitated a workshop for secondary school teachers on the history of hip hop culture and dance.
Testimonials
African Dance Class -
"Imagine living in the Caribbean and longing to feel the drum in my hips. I had to wait until Charity arrived for that to happen. She brings enthusiasm, technical know-how and embodied experience of how joyful movement liberates and transforms our stiffness and sadness into unbridled swaying joy! She did not just for me but for hungry budding entrepreneurs who drank in her exuberance and love of life!"
- Martha Cuffy - Owner of Wellness Architects, VP of Waitu'kubuli Entrepreneurs Leve, President of Dominica Spa, Health + Wellness Association